Our Work | Community Education and Mobilisation (CEM)
One Man Can
The One Man Can (OMC) Campaign encourages men to become actively involved in advocating for gender equality, preventing gender-based violence (GBV), and responding to HIV and AIDS. Sonke supports men in achieving this by helping them change their belief on gender norms, taking an active stand against domestic and sexual violence, and sustaining these changes in their personal lives – all of which contribute to reducing the rapid spread of HIV.
One Man Can's randomised control trial testing the efficacy of community mobilisation in curbing the spread of HIV.
Media campaign aiming to glorify and popularise the image of the nurturing, caring father over the widely-held perception of parenting as 'women's work'.
Touching stories of the hardships and tribulations of living with HIV, straight from those afflicted with the virus.
Engaging with and educating men and boys in pertinent topics to achieve better quality of life for all members of society.
Sonke has partnered with the Thoyandou Victim Empowerment Programme to improve support for victims of violence and abuse in Limpopo.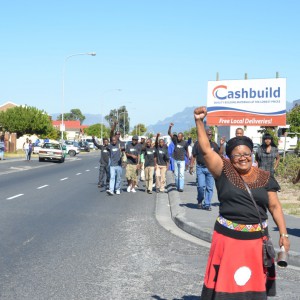 Klipfontein has been selected by the Western Cape Department of Health as the location of concerted efforts to raise awareness of HIV/AIDS.
Promulgating the health and hygiene advantages of circumcision, in an attempt to counteract cultural aversion towards the practice.
One Man Can gives training and support to inmates who wish to become peer educators, improving the lives of their fellow prisoners through education.
Programmes being run in Johannesburg and Cape Town aimed at reducing refugees' vulnerability to HIV/AIDS and xenophobic violence.
Sonke's organised soccer matches provide the opportunity to reach out to communities and train partner NGOs.
Monitoring the results of Sonke and partners' randomised control trial to ascertain to effectiveness of community mobilisation in reducing the spread of HIV/AIDS.
An updated video on the implementation of the One Man Can Campaign in Sudan.
Access various educational publications compiled by Sonke to support men and boys in putting an end to domestic and sexual violence.
The OMC Campaign strengthens community mobilisation and conducts public awareness activities to educate communities on prevention and response to GBV and HIV. These activities include:
In-depth OMC workshops for community leaders on GBV.
Training of Community Action Team (CAT) members to use their new-found knowledge from the workshops to educate their communities.
Door-to-door awareness campaigns.
Painting murals in communities.
Acting ambush theatre.
Using taxis, through branding/stickers and thought-provoking messages in a language that is appealing, relatable and educational.
Rallying mass public events on key dates like Women's Month, Youth Day, and 16 Days of Activism on Gender Violence to educate communities on GBV and HIV.
Organisation of seminars on GBV and disabilities.
Soccer tournaments.
The campaign also seeks to provide training and technical assistance to partner organisations to strengthen their capacity to engage men and boys in the prevention of GBV and HIV at community level.
Expected outcomes of the OMC Campaign include:
Improved awareness and knowledge among community members – particularly men – on the impact of GBV and their increased commitment and skills to address it.
Increased capacity of Sonke partner organisations to implement the OMC Campaign independently in their communities and to fully integrate OMC activities into their existing and future programme activities.
Strengthened capacity and commitment amongst partner organisations and key community stakeholders (traditional leaders, local government authorities, teachers, medical staff, media) to understand and address the relationship between gender norms and roles, negative masculinities and GBV and HIV & AIDS.
Positive changes in social norms, attitudes and behaviour related to GBV and gender equality, leading to a reduction in violence in the project sites.
Launched in Johannesburg and Cape Town on 25 November 2006 to mark the beginning of the annual 16 Days of Activism for No Violence Against Women and Children campaign, and in Geneva at the United Nations Commission on Human Rights (UNCHR) headquarters a few days later.